The EXACT is not a very common function, but it's actually quite useful. If you want to fully master this function, the first step is to understand what it does and how to use it.
The EXACT function will compares two text strings. If the two stings are the same, EXACT will returns TRUE. If not, EXACT returns FALSE.
Note: The EXACT function is case-sensitive and content-sensitive when comparing two strings, but ignores formatting differences.
Syntax: =EXACT(Text1, Text2)
You probably have a sense of what the EXACT function is. Now, the author will take an example to show you how to use it.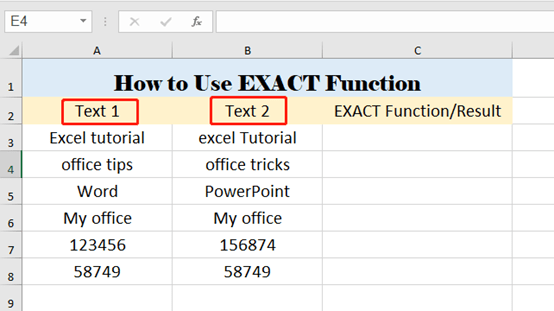 You have to take two arguments to use this function. Text1 and Text2.
Type =EXACT(A3,B3) in the cell which you want to show the result, and press Enter key.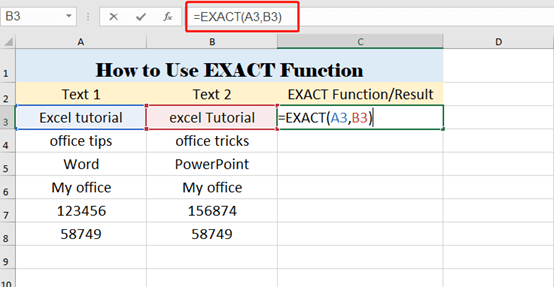 'Excel tutorial' and 'excel Tutorial' are different in case. So EXACT function returns FALSE. texts in cell A6 and cell B6 are the same, so the EXACT function returns TRUE.
That's all about the tutorial. Congratulations, you've got a new skill. What you truly understand is something you can never forget.