PowerPoint is one of the most important components of Microsoft Office programs. We often use it to make slides and presentations. For today's office workers, PowerPoint files are an integral part of daily job. If a carefully crafted PPT files get corrupted and can't be opened normally, it can make a serious impact on our work. So, let's talk about how to solve this situation.
Method 1: Save the File Again
If this PPT can be view normally on other computers, but can't be opened on your computer, the issue may come up in the process of saving the file on your computer. So, you can try to receive or save this PowerPoint file again.
Method 2: Repair the File
1. Open PowerPoint, click Files on the top-left corner, and choose Open in the left side bar.
2. Then choose Browse and find the corrupted PPT file on your computer to select it.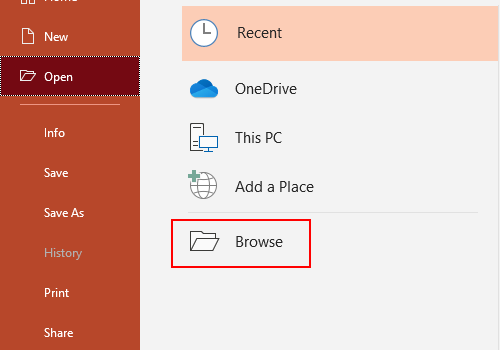 3. Click the small down-arrow beside the Open button to expand the drop-down list. Choose Open and Repair in the menu.
4. The this PPT will be repaired if possible.