Working with Microsoft Office programs often requires you to insert pictures to make the documents more informative and lively. But the pictures are not always suitable from the beginning. If you aren't going to use any of the graphics processing tools on the market, you can turn to Office itself which has some basic functions to edit pictures. I've introduced how to crop pictures in my previous post. Here I'd like to share the tip to change the color of picture in Microsoft Word, Excel, and PPT.
First of all, you should insert a picture before editing it. The steps to insert a picture into Office programs are all the same: switch to Insert tab, click Pictures and find the picture you want on the computer and hit Insert.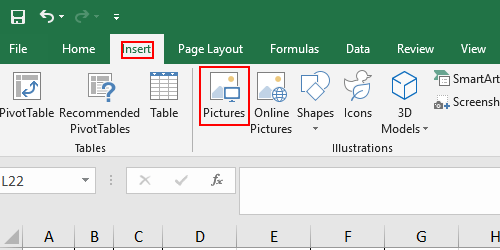 Then the picture will be added to your document.
You can also find a new tab called Picture Format in Excel, and also known as Picture Tools in Word and PPT. If you didn't find it, just click the inserted picture to enable this tool.



In this tab you can always find a Color icon in Adjust section.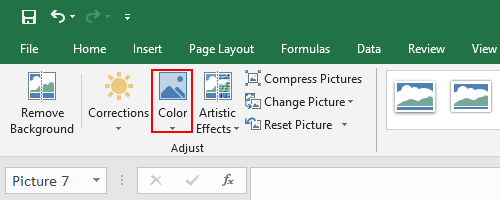 Click it to expand the drop-down menu. There are many templates for Color Saturation and Color Tone you can directly choose and apply to the inserted picture.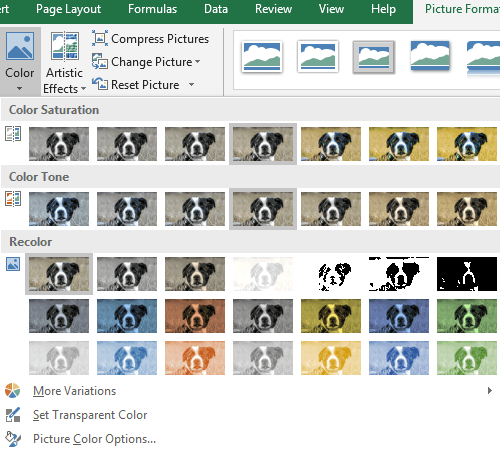 But if you are not satisfied with these existing templates, you can click More Variations to customize the color, or click Picture Color Options… to enable the further settings in Format Picture panel. Here you can not only re-color, re-size, crop the picture but also add effects like 3-D format to it.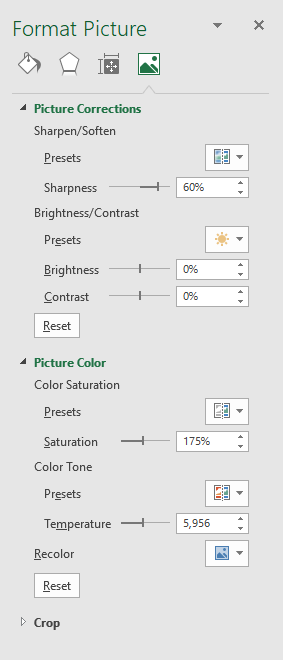 With these steps, you can adjust the color of pictures that inserted to Microsoft Office programs easily without turning to any other third-party image editing software.