When you create a new Excel file and want to save it for the first time, it can't be saved directly but requires you to choose the location and format for saving. If you don't have any special need to meet, you can let the format stay as default, which is Excel Workbook (*.xlsx), of course. Otherwise it's necessary to choose a proper format in Save as type before saving the file. To avoid repetitive operations, I'd like to share the tip of changing the default format of Excel in case there's any special situation requires you to save the file in a format other than XLSX every time.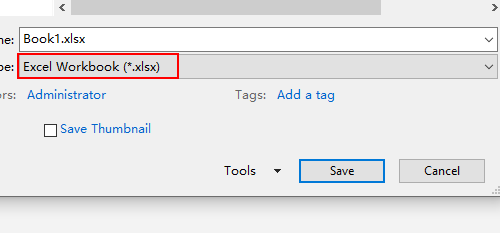 Open any of your Excel files, switch to File tab.

Choose Options in the left sidebar.

Click saving in in Excel Options window. Find the options of Save files in this format in Save workbooks section. As shown in the picture below, the current default format for saving files is Excel Workbook (*.xlsx).

Click the choice box to enable the drop-down list. Choose the format according to your actual situation. If you want this file can be edited by former versions of Excel, choose Excel 97-2003 Workbook (*.xls).

Click OK to apply the setting to Excel. You'll see the result next time saving a new file, the default type will show as the format you selected.