Working with the data in Excel spreadsheets often requires a reminder of the due date, such as the due date of receivable. In this post, I'll introduce 2 methods to add a due date reminder in your Excel sheet. Hope it can be helpful to your work.
1. Functions

See the example below. I create 3 columns in the table and input "=TODAY()" in A2, which refers to today's date. It will be update automatically every time I open the file.

Press Enter or click anywhere outside the cell, the date will show.

Then input the due date in B2 directly since it's fixed.

In my case, I want to be alerted when there are less than 10 days left before due date. So I input =IF(B2-A2<=10,"DUE","") in C2. It means when the result of B2-A2 is less than 10 or equals to 10, the text of "DUE" will show in the cell. Otherwise it shows as blank. So I can only see a blank cell in C2 for now.

In order to check the effect of the reminder. I change the due date in B2 to 2019/7/27, and then the text in C2 changes as well, which proves this method works.

2. Conditional Formatting

If you don't want to add a new column as reminder in the sheet, you can try another method to make the cells change color when the expiration date approaches.
For example, I hope B2 can turn to red when the remaining time is less than 10 days.

Select this cell, click Home – Conditional Formatting – New Rule.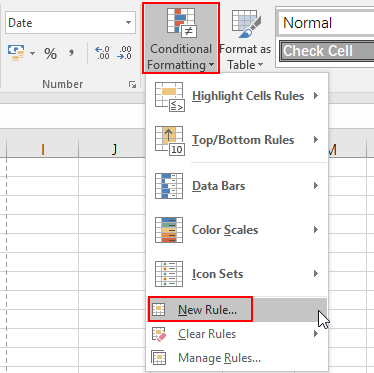 Choose Use a formula to determine which cells to format as Rule Type. Input the formula "=B2-TODAY()<=10" in the textbox below. Then click Format.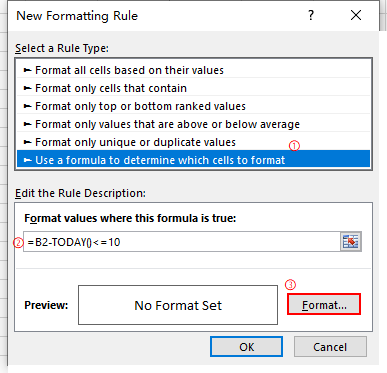 Switch to Fill tab, choose the color you want and hit OK.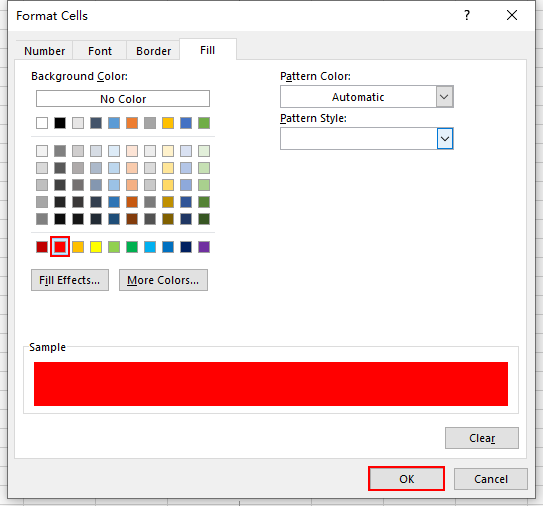 Now the color of B2 has changed into red since the result of the formula is less than 10.