If you have tons of data to deal with in a spreadsheet, it's much more convenient to use Excel functions instead of manual calculations. But inputting formulas in each cell can also take a lot of time. Is there a way to enter it just once and apply the formula to multiple cells within seconds?
Take this table below as an example. I use a formula in it to calculate the profit of products. If I want to copy it in F3 manually, I must adjust it a little bit since the cells involved are different. This process will doubtlessly take a lot of time.

To copy this formula to multiple cells at once, the simplest way is using Fill Handle:
1. Putting your cursor at the right-lower corner of the cell F2 till it becomes a small black cross.
2. drag it down to contain all the cells you want to fill the formula in.

3. Release the mouse, you can see the formula has been applied to all these cells.
This method is quick and simple, but there's still a little problem. If you have a rather long table to deal with, drag the cursor down to select the entire column may also be annoying.
For this situation, I'd like to share another tip:
1. Click F2 to select it, then scroll down to find the last cell in the column.
2. Hold down Shift key and click it.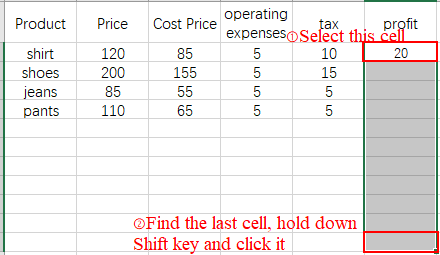 3. Then put your cursor at the formula bar, press Ctrl+Enter to fill the formula in selected area.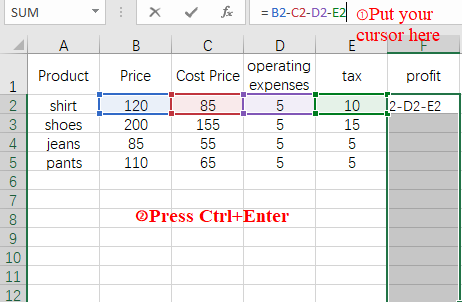 4. Now you can check the result.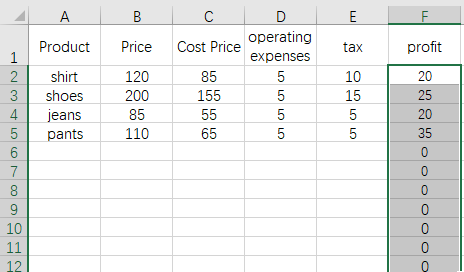 This method of copying formulas is more suitable for large tables with lots of data.