A Word document could be modified for several times by more than one people in daily work. Is there a simple way to compare these different versions of Word documents side-by-side and pick out exactly the one you want?
In fact, you can make use of the compare feature of Word itself.
1. Click Compare in Review tab. Select Compare and a window will pop out.

2. Choose the Original document and Revised document separately. You can also click More to show more settings. Choose what you want to compare and where to display the changes. Hit OK to implement it.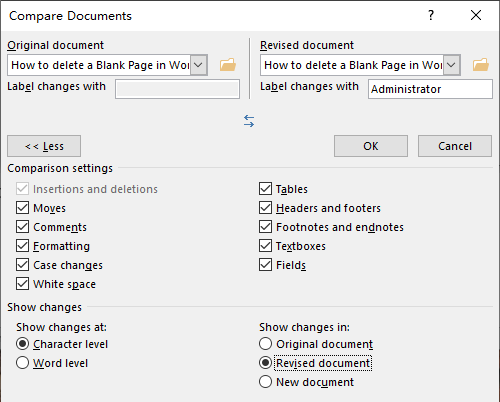 3. After finishing all of these settings, the revised document pops out. All the revisions have been made show in the left of the page. Now you can compare these two Word documents intuitively and pick out the one you truly want.
At last, you can also use document comparison tools, like Draftable to compare docs. Whether you want to compare a word document, PDF, or an Excel file, this tool won't disappoint you. The best thing is, you don't have to worry about data security or privacy. It is an enterprise-grade data comparison software designed with all the security features at the front of mind.