An exclusive watermark can make your PowerPoint slides more unique, and prove the copyright ownership. Anyone seeing the watermark will know that the slides are created by you. But how to insert a customized watermark in PowerPoint, and how to remove it? It's a little different from the approach in Word.
1. Go to View tab, click Slide Master in Master Views section. You'll find the newly added Slide Master tab next to File.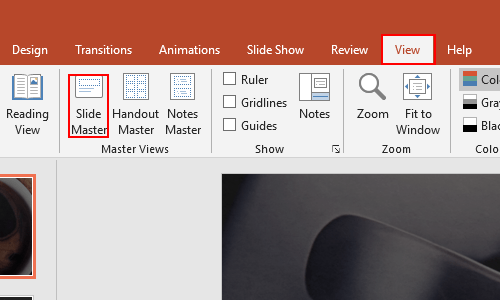 2. Switch to Insert tab, then you can click WordArt in Text section, and choose a style you like to insert it.
Input the text in the textbox. Here I entered "WATERMARK".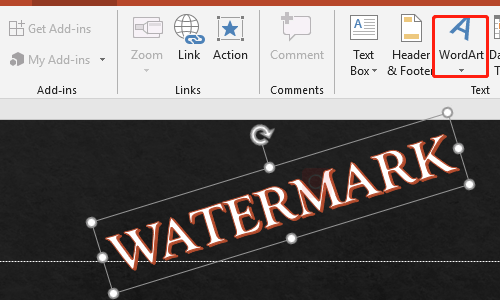 3. You can drag the dotted frame to adjust location, size and direction. What's more, you can click it and then go to Format  (Drawing Tools) tab, expand the drop-down menu of Text Fill, choose any color you like, or hit Gradient – More Gradients… to evoke the Format Shape pane.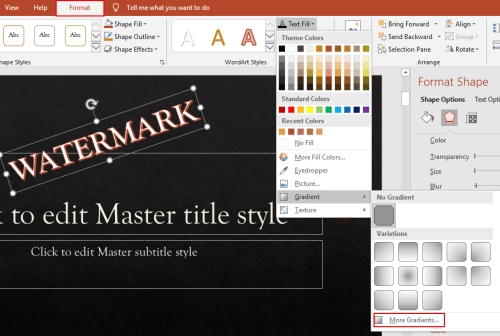 4. Here you can change the Transparency of the Text Fill as well as Text Outline. It will make the WordArt you inserted more like a watermark.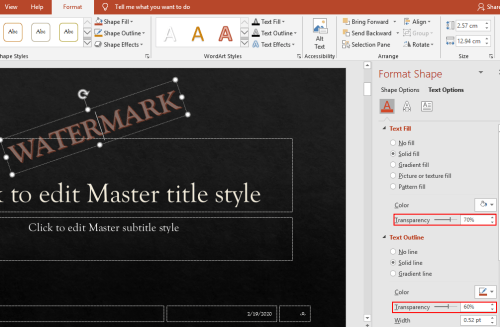 5. If you don't want a pure text watermark, you can choose a shape from the list of Shapes in Insert tab. The way to adjust the inserted shape is almost the same. Furthermore, you can combine a shape and a WordArt to make it more informative.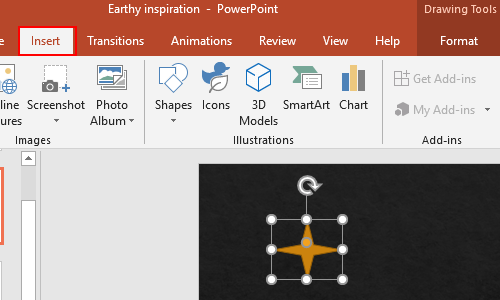 6. After that, you can hit Close Master View in Slide Master tab to quit it.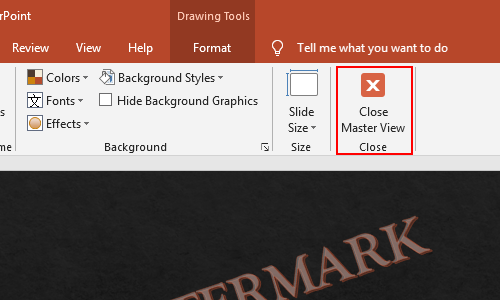 7. You can see the watermark can't be modified or deleted by normal means now, no matter it's created by insert shape or insert WordArt. If you truly want to remove it, the only way is to enable Slide Master again, select the watermark and press [Del] key to delete it.