The way to insert comments to Excel cells is not much different from adding comments to Word document. You can also inform others your thoughts about specific cells in this way. Let's see the detailed steps.
1. Click the cell you want to add a comment. Then switch to Review tab and click New Comment.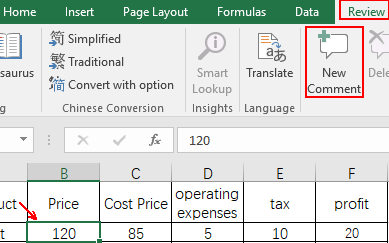 2. Input your comment in the textbox. Then click anywhere outside it to finish editing.

3. The textbox will be hidden and you can only see a red small triangle in the upper right corner of the cell then.

4. Hover your cursor over the cell again, you can see the content you just added. In this way other users who open the file can also see your comment.

5. If you want to edit an existing comment or delete it, just click the cell and find Edit Comment or Delete in Review tab.