Microsoft Office might be the most common productivity tool for corporate users, but in view of several versions it has, some of you may be a little confused. Today let's take a look at the differences between Office 2019 and Office 2016, and we can also provide the best price without breaking your wallet.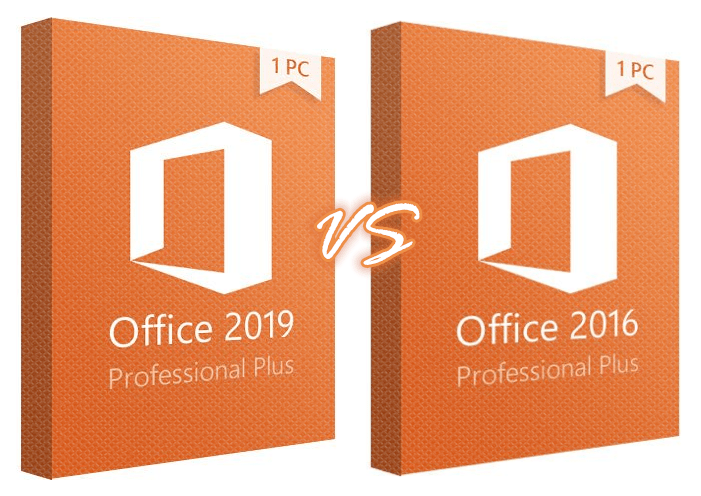 What's The Differences Between Office 2019 And Office 2016
If you find it hard to make a choice comparing Office 2019 with Office 2016, or simply curious about the newer version, here's how to decide which one is best for you – here's a quick rundown of the new features in Office 2019.
1. Word
Text-to-speech
Focus mode
Translator
Black theme
@ Mentions
Improved inking & accessibility
Learning tools (captions & audio descriptions)
2. Excel
Excel Connectors
@ Mentions
PowerPivot Enhancements
PowerQuery Enhancements
Feature to publish Excel in PowerBl
Funnel charts, 2D maps and timelines
3. PowerPoint
Improvement for the itinerant pencil
The introduction of Morph, a new transition type
Zoom capabilities for sorting slides within presentations
Ability to insert vector icons (SVG) and work with 3D models
4. Outlook
Office Groups 365
Intelligent input tray
Updated contact cards
@ Mentions
Travel and delivery summary cards
How To Get The Best Price On Office 2019 And Office 2016
Looking to purchase Microsoft Office for the best price in the land? Of course, you could choose to buy an Office subscription directly from Microsoft, but it's often possible to get a better deal from a reliable third party retailer.
You're in luck as here I' d like to provide a promo code – KSW35, which gives you a 35% additional discount on an already preferential price. Follow our guide below, you are just 3 steps away from the best price on Microsoft Office 2019 Professional Plus and Microsoft Office 2016 Professional Plus, and I'd like to take the former as an example.
1. Open the software list, click the software you want to enter the product page. You can see its original price and preferential price here.
2. Click [ADD TO CART], choose [VIEW CART] in the popping out confirm box and enter the discount code KSW35 on your shopping cart. Hit [APPLY DISCOUNT] below it and then you can see the final price (35% off on the preferential price).
3. Click [PROCEED TO CHECKOUT], enter your mail address and choose your payment method to purchase it.