When you are browsing web pages in Google Chrome and finding some information interesting or useful, you may want to print it out on paper for later use. But the whole process of saving (or copying) web pages as document then printing them isn't very simple, and the layout of the content can also be disrupted. To print web pages easier and better, you can make use of the print feature of Chrome itself. Here're the steps.
1. Click the icon with 3 vertical dots on the top-right corner of Chrome.
2. Choose Print… in the menu.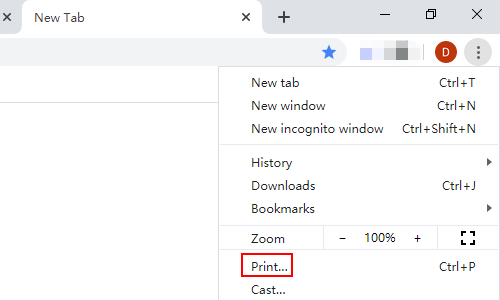 3. Click the down-arrow beside the choice box of Destination to open its drop-down menu. If you've set up one or more printers, there will be options of them allowing you to print the pages directly. If you haven't set up a printer yet, you can also choose Microsoft Print to PDF or Save as PDF to convert these pages as PDF format first.
Here I choose Microsoft Print to PDF as an example.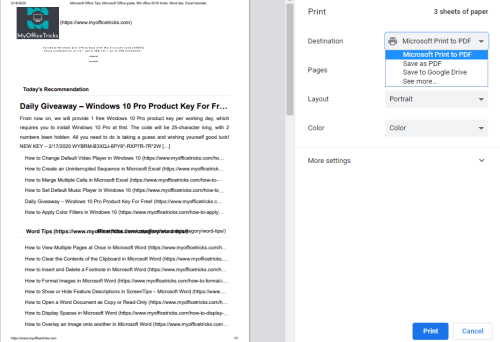 4. A web page including much information is usually divided into multiple pages when printing. You can expand the drop-down menu of Pages and choose Custom to enter the specific page number you want to print out.
You can choose a single page, or a range of pages (like 1-3). As for discontinuous page numbers, you can separate them with a comma (like 1, 3-5, 7).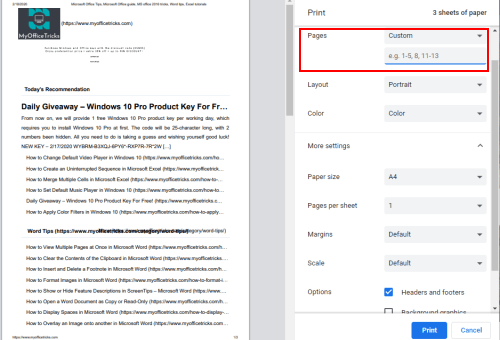 5. Then press Print button to proceed. There will be a popping out window allowing you to save the web pages to your computer.
After that, you can find this PDF file on the place you specified, and print them any time you want.