We all know that the shortcuts for paste is Ctrl + V by default, but when pasting chores involving foreign sources, such as the Internet, usually require extra steps because you can't just use the same way. In this case, here I'd like to give a simple guide of how to set default paste option in Microsoft Word.
1. Go to Home tab, find Clipboard group and click the arrow of Paste.

2. Select Set Default Paste in drop-down box.


3.  The Word Options dialog box will display, go to Advanced tab and find Cut, copy and paste. Just set options according to actual demands and click OK to save the settings.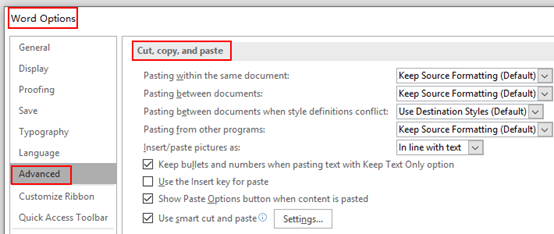 4. You can set the default paste option for several different situations. The options are flexible, which means you can control the pasting default for within the same document, between documents, when there's a style definition conflict, and even from different programs. In general, it could save you a lot of trouble with the pasting task.