You may have seen an animation effect that a word or a paragraph appearing in PowerPoint letter by letter, together with the sound of typing, just like you are typing on a typewriter. How does this interesting animation created?
1. Open PowerPoint, insert the text in a slide.
If it's a blank slide, you can go to Insert tab, click Text Box and choose a horizontal or vertical textbox to draw it by mouse.
2. Click the textbox or drag your mouse to select all the text you want to add animation.
Switch to Animations tab, click Add Animation to select an Entrance animation in the drop-down menu. Here I chose Appear.
3. Click Animation Pane beside Add Animation.
4. Then you can find the animation you just added in the Animation Pane.
Right-click it and choose Effect Options… in the menu.
5. An option window will pop out. You can choose the Sound, After animation and Animate text in Effect tab.
To create a typerwriter effect, click the small down arrow beside Sound, and scroll down to choose Typerwriter. You can click the little trumpet icon to listen it.
Choose By letter in the drop-down menu of Animate text in the same way, and adjust the seconds delay between letters. I set it as 0.2.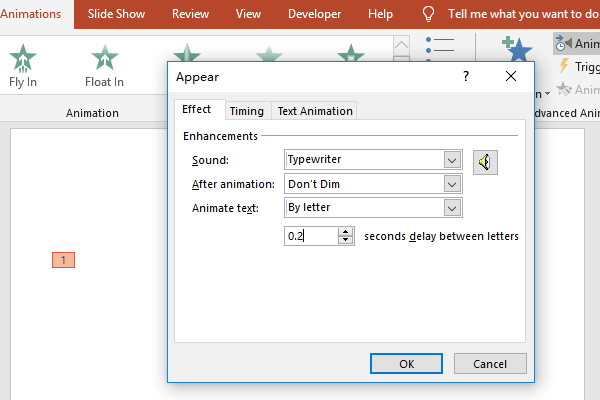 6. Hit OK button to confirm the settings.
Now you can click Preview to try the typewriter animation!