Guest account allows temporary login on a Windows 10 system without requiring to provide any password. If your colleagues is asking fairly often to use your computer temporarily, then it is necessary to enable guest account for he/she, thus you don't have to reveal your personal account. So how can we achieve it? Here's a simple guide.
1. Press shortcuts [Win]+[R] on your keyboard to open Run dialog box, next enter the command: gpedit.msc and click OK at the bottom.

2. The Local Group Policy Editor window will appear, go to Computer Configuration > Windows Settings > Security Settings > Local Policies > Security Options. Then double click on Accounts: Guest account status in the right pane. Here you can see the Security Setting of it is Disable.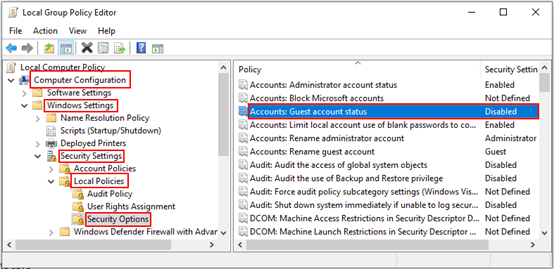 3. Here comes the Accounts: Guest account status Properties dialog box, go to Local Security Settings tab. Now you can check Enabled to enable the guest account or check Disabled to disable it. Then click OK to save changes.