If you have some special needs in designing such as merging two lines of text into one line, this small trick I'm going to share may be helpful.
Assuming that I'm writing a resume, I want to put my phone number and email address in one single line – one in the upper half part and another in the lower half part.
Click Home – Asian Layout, you can find two options available for this situation: Combine Characters… and Two Lines in One…
In Combine Characters you can only input 6 characters at most. So I choose Two Lines in One this time.

Input the content you want in Text. You can see the result in Preview synchronously.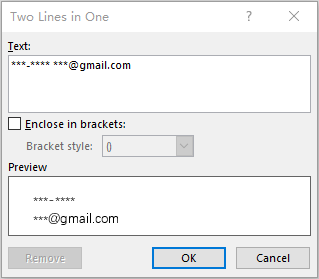 Hit OK and make a little bit adjustment. Here's the result.
Please note that if there's only one space in the text, the space will be regarded as the separation of the two lines. But if there're more spaces, the text will be split from the middle according to the number and width of characters.