Usually a PowerPoint slideshow is made to give a interpretation or make a speech to others. So it's very likely to be created on your computer but played on another. Here comes the question – what if the computer it will be play on haven't installed Microsoft PowerPoint? Can this slideshow still be played normally?
To solve this problem, of course you can installed PowerPoint on that computer as well. But if you don't want to, or don't have time to do it, you can try saving the slideshow in another format.
1. Click File on the top-left corner of PowerPoint.
2. Switch to Export pane, choose Package Presentation for CD, then click Package for CD on the right.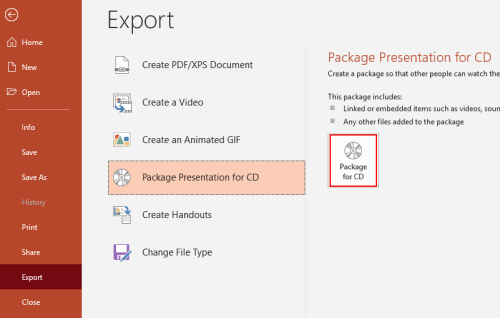 3. In the popping out Package for CD window, you can rename the CD, add or remove files. You can also click Options… for further settings.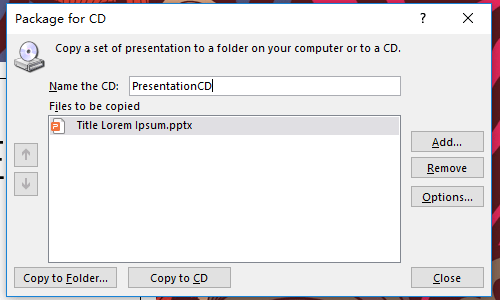 4. There are some options for you to choose, normally the Linked files and Embedded TrueType fonts are checked by default. You can also add a password to the file to enhance the security and privacy. After that, click OK to confirm all the settings.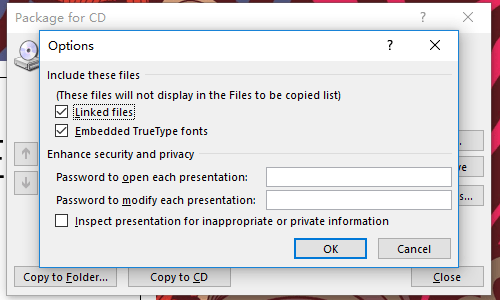 5. Then choose Copy to Folder… if you don't really have actual CD. Click Browse… in the popping out window to specify a location for saving the presentation. Hit OK to proceed.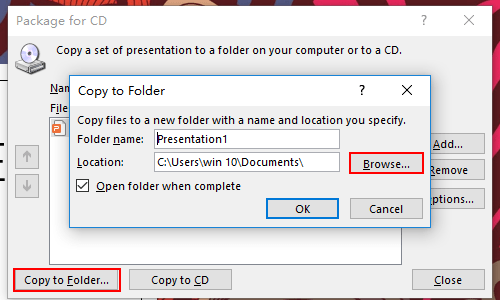 6. The folder will pop out when finishing if you checked Open folder when complete. You can copy this folder to any computer, and play the presentation by simply double-clicking AUTORUN.