Inserting line numbers to a document can make it easier to locate the specified content and give you a clear notion about the progress of your writing. So in this post, I'll make a quick introduction to the way of adding line numbers to Word documents.
1. First, switch to Layout tab in the document. Click Numbers in the right of Page Setup section.

2. Select the mode of numbering in the drop-down list. If you want the automatic numbering starts over in each page, then choose Restart Each Page. In my case, I want only a set of numbers from the beginning of the document to the end, so I choose Continuous.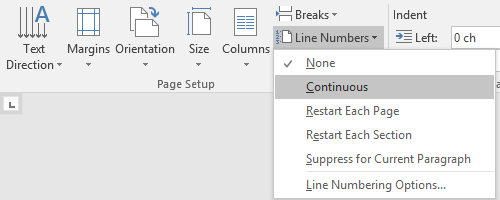 3. Then you can see the line numbers in front of each line. They won't be deleted by any normal means, but you can simply select None in Line Numbers menu to remove them.

4. Now if you want to locate any of the lines, you can press Ctrl+H then switch to Go To tab. Select Line in the list of Go to what, and type the line number in the textbox on the right. After this, hit Go To to find the specified content.