Using the speak command in MS Word could save a lot of time if you only read books or review reports. Yes, you can make Word read to you, which allows you to do something else at the same time and also relieves eye strain and fatigue. It's a very simple procedure to set up, let's get started immediately:
1. Go to File tab at top left in the Ribbon.

2. Click Options in the left pane.

3. The Word Options dialog box will display, go to Customize Ribbon tab. Click New Tab in the right pane and here New Tab (Custom) appears under New Tab (Custom).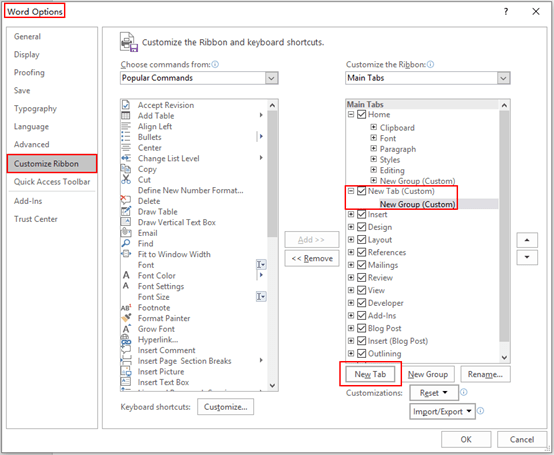 4. Select Popular Commands in the box of Choose commands from. Scroll through and choose Speak command, then click Add in the middle, you can see it has been inserted into New Group (Custom). Do not forget to hit OK at the bottom to save the setting.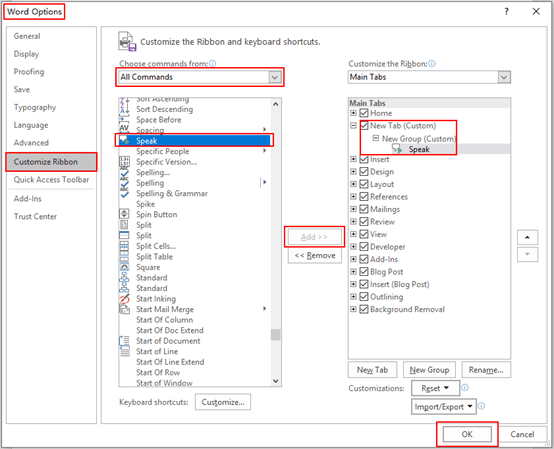 5. Go back to the Ribbon area and click New Tab you just created, the Speak command button is ready for you. Press [Ctrl] + [A] to select the entire document or just highlight some specified paragraphs, then Word will read it automatically and you can stop the command by clicking it again. There is no pause-and-continue option for now.